August 29, 2023- In a heartfelt effort to turn personal tragedy into positive change, Oppenheim-Ephratah-St. Johnsville student Alicianna Bersani, has embarked on a mission to raise awareness about Sudden Infant Death Syndrome (SIDS) and support those affected by it. Alicianna's dedication has led to the creation of "The Dominick Foundation – SIDS Siblings Survivors," an initiative aimed at helping others while preserving the memory of her late brother, Dominick Bersani III.
As part of her ongoing commitment, Alicianna recently undertook a project for her school community, collecting and donated boxes filled with backpacks and school supplies for kindergarten students in the OESJ district. This act of kindness highlights Alicianna's determination to make a positive impact in her community while honoring her brother's memory.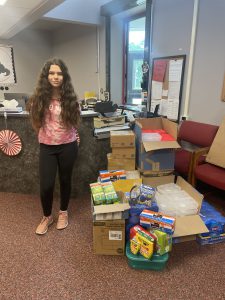 As Alicianna continues to navigate her academic journey, she plans on spearheading initiatives throughout the school year as a testament to her brother and the power of empathy, resilience, and community spirit.
For more information on how to help Alicianna in her efforts, contact the OESJ School District.