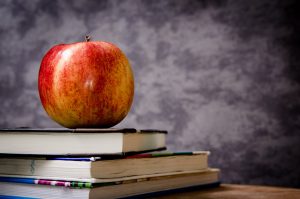 On the third Tuesday of each May, residents from across New York State go to the polls to vote on the following year's school district budget and to elect members of the Board of Education.
2021-22 budget
May 18, 2021
The budget and bus purchases were approved by the OESJ community tonight.
The $21,297,061 2021-22 budget

 

was approved by a vote of 176 to 34, a margin of 83.8% to 16.2%.
The proposal to withdraw $165,000 from the district's reserve to purchase buses

 

was approved by a vote of 169 to 40, a margin of 80.8% to 19.2%.
Board member Shellie Walrath was re-elected with 155 votes and write-in candidate Anton Christensen received 39 votes.
---
PROPOSED 2021-22 BUDGET CONTAINS NO TAX INCREASE
The proposed 2021-22 school budget keeps taxes the same as the 2020-21 school year while maintaining all student programs.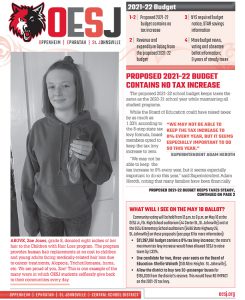 While the Board of Education could have raised taxes by as much as 1.33% according to the 8-step state tax levy formula, board members opted to keep the tax levy increase to zero.
"We may not be able to keep the tax increase to 0% every year, but it seems especially important to do so this year," said Superintendent Adam Heroth, noting that many families have been financially impacted by the COVID-19 pandemic.
OESJ, as did all other school districts, received a boost in state aid from the NYS budget. The state Legislature also promised to fully fund Foundation Aid over the next three years.
Though not included in this budget, federal stimulus funding for OESJ is in place to keep school finances in order until 2024.
Heroth noted that 59% of the budget goes for salaries and benefits and 11% is for debt payments.
The budget adds a Jr./ Sr. High School math and Spanish teacher, an elementary teacher and includes a health insurance premium increase of 13.5%.
The budget includes these reductions: transportation supervisor, special education teacher and two retirees from the fall have not been replaced.
Here's the budget newsletter with more details about the budget.
Voter Qualifications
To qualify to register to vote, you must meet all of the conditions listed below:
You are a citizen of the United States
You are at least 18 years of age
You are a resident of the District for at least thirty (30) days prior to the vote date
You are not a convicted felon
You are not in jail or on parole for a felony conviction
You are not adjudged by a Court to be mentally incompetent
Voter Registration
If you are registered through the county that you live in to vote in national, county and town elections, you do not have to do anything. You are already registered to vote in the school district election.
If you are not registered to vote with the county, you may register just for the school district election or to request an absentee ballot application (see below) by contacting District Clerk Stephanie Bonk at stephanie.bonk@oesj.org or by calling (518) 568-7280.
Voting Locations
Community voting is held from noon to 8 p.m. at:
OESJ Junior-Senior High School auditorium, 44 Center St., St. Johnsville
OEJS Elementary School auditorium, 6486 State Highway 29, St. Johnsville
If you live in the former St. Johnsville school district, you vote at the Junior-Senior High School. If you live in the former Oppenheim-Ephratah school district, you vote at the Elementary School. If you are unsure where to vote, contact District Clerk Stephanie Bonk at stephanie. bonk@oesj.org or by calling (518) 568-7280.
Absentee Ballots
Absentee ballots will be provided upon proper application to any qualified voter who will be unable to vote in person due to illness or physical disability, hospitalization, incarceration (unless for conviction of a felony), travel outside the voter's county or city of residence for employment or business reasons, studies, or vacation on the day of the election.
The District Clerk will review the absentee ballot application to determine if the applicant is a qualified voter and is otherwise entitled to vote by absentee ballot. If the application is proper in all respects, the District Clerk will then mail or personally issue an absentee ballot to the voter.
Application must be received by the District Clerk at least 7 days before the election if the ballot is to be mailed to the voter, or the day before the election, if the ballot is to be delivered personally to the voter. Completed absentee ballots are due back to the school by 5 p.m. on the day of the vote.
Here is the absentee ballot application.