June 19, 2020:
The 2020-21 budget proposal was approved by a tentative vote of 573 to 251, 70% to 30%
The Capital Reserve Fund was approved by a vote of 551 to 276, 67% to 33%.
The bus purchases were approved by vote of 610 to 216, 74% to 26%.
Board member Sarah Barnes was re-elected with 654 votes and Jeremy Brundage was re-elected with 635 votes.
---
These dates pertain to the upcoming budget and Board of Education vote, scheduled by absentee ballot for June 9:
May 27, 2020
Budget proposal maintains programs; 0.37% tax increase
OESJ has faced the challenges of the COVID-19 outbreak, the abrupt end of the spring semester and virtual learning since March. Despite that uncertainty, administrators pledged to develop a budget for the 2020-21 school year that maintains current programming. Staff reductions noted below will not affect the education of students.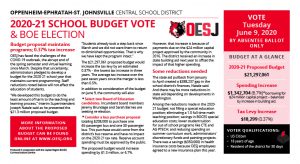 "We developed this budget to do the least amount of harm to the teaching and learning process," Interim Superintendent Joseph Natale said as he presented the $21.3 million proposed budget.
"Students already took a step back since March and we did not want them to return to diminished opportunities. That is why we have kept the program intact."
The $21,297,061 proposed budget would increase the tax levy by an estimated 0.37% – the lowest tax increase in three years. The average tax increase over the past seven years since the merger is less than 0.5%.
In addition to consideration of the budget on June 9, the community will also:
Select two Board of Education candidates. Incumbent board members Jeremy Brundage and Sarah Barnes are seeking re-election.
Consider a bus purchase proposal totaling $208,000 to purchase one 65-passenger bus and one 30-passenger bus. This purchase would come from the district's bus reserve and have no impact on the 2020-21 tax rate. Reserve account spending must be approved by the public.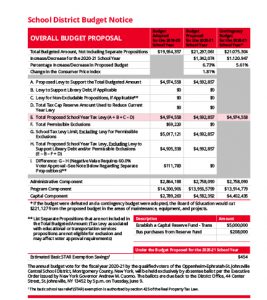 The proposed budget would increase spending by $1.3 million, or 6.7%. However, that increase is because of payments due on the $24 million capital project approved by the community in 2016. The district received an increase in state building aid next year to offset the impact of that higher spending.
Some reductions needed
The state aid pullback from January to April created a $388,237 gap in the school district's finances, Natale said. And there may be more reductions in state aid depending on developments in Washington.
Among the reductions made in the 2020-21 budget: not filling a special education position; eliminating a 1.0 full-time math teaching position; savings in BOCES special education costs; lower student tuition for out-of-school programs like CTE and AG PTECH; and reducing spending on summer curriculum work, administrators' discretionary funds and painting projects. There was a savings ($350,000) in health insurance costs because OESJ employees agreed to a new insurance plan this year.