OESJ Soccer's Andrew Snell is an All-State soccer selection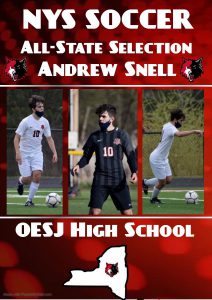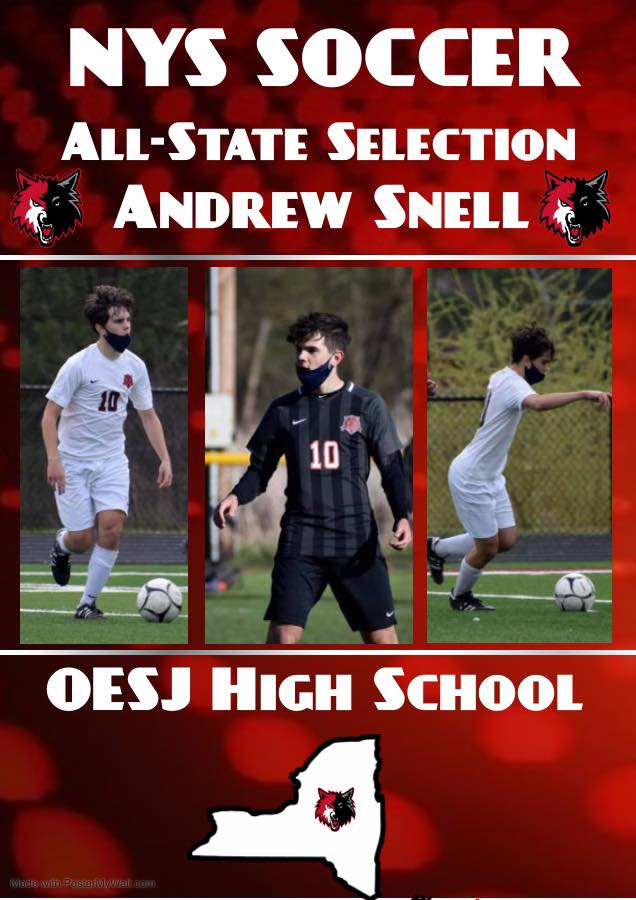 Andrew Snell was named selected All-State Wednesday when New York State unveiled its all-state soccer teams.
Andrew, a sophomore from OESJ High School, possesses excellent foot skills along with a high soccer IQ.
Over the past 2 seasons, he has tallied 30 goals and 32 assists. Snell's goal to assist ratio is almost identical which only shows what a well-rounded player he is. His ability to be able to read the field and play balls to open space allowing for his teammates to have many opportunities for scoring is one of Andrew's strengths.
This is a rare and distinct honor and we are very proud of Andrew!
In this unusual year, due to the pandemic, the boys' announcement covers both players who played in the fall of 2020 or in the spring during Fall Two.
Please join us in congratulating Drew on this great accomplishment!
OESJ Athletics Required Paperwork
1.  2020-2021 ATHLETIC CODE: Please note that the complete athletic code can be found here. Please make sure that parents and students have read and understand the Athletic Code of Conduct. If there are any questions please email Athletics@oesj.org. This form needs to be signed by a parent and the student-athlete acknowledging that both understand the athletic Code of Conduct.
2. Heath History Form: This form is to be completed (front and back).
3. OESJ Sports Participation Form: This form is needed prior to starting practice.
4. Emergency Contact Form: This is a yellow card (front/back) that needs to be        completed and signed by the athletes' parent/guardian.
** UPDATE ON ATHLETIC PHYSICALS**
Students that have had a physical during the last school year will not need a physical for the 2020-2021 school year to participate in athletics per NYSPHAAA. Those students who have signed up to play a sport and are not in compliance will be contacted directly by the high school nurse. If you are not contacted then a physical is not needed.
In order to participate in sports, all paperwork must be turned into Mr.Heiser. Anyone who does not turn in the required paperwork will not be able to participate.
If there are any questions please email OESJ Athletic Coordinator Travis Heiser at athletics@oesj.org