The Superintendent of Schools may close the schools or dismiss students/staff early in the event of severe weather or hazardous road conditions. Every attempt will be made to ensure that younger students will not be left without proper parental supervision.
The school district uses the School Messenger system to directly notify families of school closings and other emergencies.
Parents are requested to avoid calling schools on days of poor weather; it is important to keep school phone lines open. School closings and delayed starting times will be announced over local radio stations. The following television/radio stations will carry information regarding emergency closings:
Channel 2
Channel 6
Channel 10
Channel 13
Channel 9
WGY (81 AM)
WROW (590 AM)
If no report is heard, it can be assumed the schools are opening on time.
OESJ Parents and Guardians
You can take advantage of our text Messaging Service
Our school utilizes the SchoolMessenger system to deliver text messages, straight to your mobile phone with important information about events, school closings, safety alerts and more.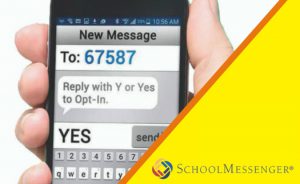 You can participate in this free service* just by sending a text message of "Y" or "Yes"to our school's short code number, 67587. Y ou can also opt out of these messages at any time by simply replying to one of our messages with "Stop".
SchoolMessenger is compliant with the Student Privacy PledgeTM, so you can rest assured that your information is safe and will never be given or sold to anyone.
*IMPORTANT NOTE: Standard message and data rates may apply. Reply HELP for help. Text STOP to cancel. Mobile carriers are not liable for delayed or undelivered messages.
---
If you don't receive the text messages…
1.   Check to be sure your cell phone information is listed properly in the SchoolTool Parent Portal: Refer to the SchoolTool Parent Portal Access Guide located at https://www.oesj.org/?s=Parent+Portal
Jf you see that this information is not correct in  SchoolTool,  you will need to update your contact information by contacting your child's  school
OESJ  Elementary  (518) 568-2014
OESJ Jr/Sr High School (518) 568-2011.
Please note that it may take a day or two  before  this information is updated in SchoolTool.  School  Messenger  syncs  with  the  SchoolTool Parent Portal on a daily basis so once SchoolTool  is updated,  it  will take about  24 hours for your number to be updated by School Messenger.
If you need access to SchoolTool as a Parent and Legal Guardian, please fill out the Request for Permission to Access the OESJ SchoolTool Parent Portal Form found at https://www.oesj.org/wp-content/uploads/2018/06/Portal_Parent_Consent_Form.pdf
2.  If your information in SchoolTool is correct, you may already be able to receive messages from School Messenger.
To find out if you are, simply text "Y" or "YES" to 67587. This is the "short code" number School Messenger uses to send messages on behalf of the OESJ School District. You can do this anytime and you should receive a confirmation text from School Messenger in response.
Please note that opting-in lets your cell phone carrier know that you want to receive messages from this number, 67587. Some families are finding that they may have already opted-in to receive messages from this number while enrolled or employed in another school district or from another source. The most important thing to know is that if your cell phone information is accurate in SchoolTool, and you have opted-in to receive messages from 67587, you will receive emergency messaging from OESJ CSD. Still not sure? Email it@oesj.org
IMPORTANT NOTE: In the event of an emergency, school closing or delay, the district uses multiple communications channels to reach families, including posting to the website, School Messenger, social media, and TV, radio & print media. Always check more than one source of information in the event of school closing, or delay, or in cases of emergency. This information can be found on our School Closing & Delays information page https:/www.oesj.org/about-us/school-closinqs-delays/