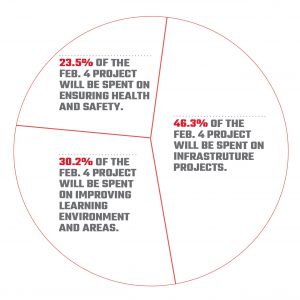 Here's the presentation from the Wednesday. Jan. 29 public meetings.
This proposal can be summed up in three broad categories: ensuring health and safety, improving learning environments and updating infrastructure.
Unlike the 2016 capital project, there are no building additions in this proposal. The items are smaller items, like new fire alarm systems, that will "complete" the previous project by ensuring that OESJ schools are ready for the challenges of tomorrow, from top to bottom.
Here is a list of the proposals by building and category:
JR./SR. HIGH SCHOOL
Ensuring Health and Safety
PA system replacement
Fire alarm system with wiring and addressable detectors (not included in current project)
Replace all classroom doors or at least door
handles and upgrade all locks to swipe card
Replace all roof vents and blowers
Replace all entrance doors
Updating infrastructure
Replace white roof over cafeteria and hallways around gym
Repave Center Street to main entrance
Repave front parking lot and entrance road
Two boilers replaced and all pumps
Internal water and sewer lines – replace 1949 piping
Improving learning environment/areas
Replace all exterior windows
New lighting and ceiling tile in remaining areas
Upgrade finishes throughout the building
Blinds/shades replaced in all rooms
$6,467,006 – TOTAL PROJECT COSTS AT THE JR./SR. HIGH SCHOOL (including contingency/escalation, incidental and state costs)
ELEMENTARY SCHOOL
Ensuring Health and Safety
Fire alarm system with wiring and addressable detectors (not included in current project)
Replace all classroom doors or at least door handles and upgrade all locks to swipe card
Replace all entrance doors
Upgrade the drinking water well, pumps and tanks
Updating infrastructure
Internal water and sewer lines replaced
Re-roofing IT room and library
Centralize IT data operations
Improving learning environment/areas
Replace gym sound system
New lighting and ceiling tiles
Blinds/shades replaced in all rooms
Upgrade finishes throughout the building
$2,055,606 – TOTAL PROJECT COSTS AT THE ELEMENTARY SCHOOL (including contingency/escalation, incidental and state costs)
BUS GARAGE
Ensuring Health and Safety
Replace lifts and pistons
LED lighting
Parking lot lights
HVAC in supervisor's office
Replace water reclaim system
Updating infrastructure
Entrance doors, overhead doors, and all windows replaced
Additional parking, 15 spots
Concrete floors and aprons replaced or resurfaced
$893,388 – TOTAL PROJECT COSTS AT THE BUS GARAGE (including contingency/escalation, incidental and state costs)