Academic Resources
Jr/Sr HS:
Welcome to our Hybrid learning or fully remote learning environment. We are looking forward to an exciting year full of learning and fun. As you know we have been preparing to open school and making plans over the summer for a safe and healthy environment with a rigorous curriculum for all students. We are excited that we were able to offer our OESJ families an option that allows children to learn from an in-person and remote learning setting.
Personally, I am excited to get the year started and welcome all students to OESJ Jr./Sr. High School. It has been a pleasure to work with our teachers to develop plans for safety and instruction for our students. Everyone here at OESJ wants you here and will help you achieve your goals. This year above any needs to be a year of unification. We need to lock arms, hands, brains, and hearts and commit to what is in the best interest of our students and their future. Most importantly we need to focus on kindness. Thank you for your continued support for your child's education.
Please find some guidelines below:
20-21 Hybrid Block Scheduling
OESJ is offering a fully remote learning experience as well as a hybrid learning model. All students will engage in some form of remote learning on a weekly basis. Students will be grouped alphabetically according to their last name.
Students are required to follow the same instructional schedule whether their instruction is delivered in person or remotely. Students that have selected remote only as their method of learning will have to follow an abbreviated schedule on Wednesdays.
The first day of the school year for 7-12 will be Monday, September 14th 2020.
Gray days are for students with last names beginning with A-L
Red days are for students with last names beginning with M-Z
Some accommodations have been made to balance the number of students in each class.
Junior and Senior High School 7-12
The school day will begin at 7:47 a.m. and end at 2:11 p.m. daily
Walkers and Parent drop-offs can happen no earlier than 7:35 a.m.
Monday 9/14 will be a Gray Day 1
Tuesday 9/15 will be a Gray Day 2
 Wednesday 9/16 students will be home and remote
Thursday 9/17 will be a Red Day 3
Friday 9/18 will be a Red Day 4
Monday 9/21 will be a Gray Day 5
Tuesday 9/22 will be a Gray Day 6
Here are the monthly schedules for the first few months:
You will continue on a 6-day rotation but your days of the week will be the same each week unless there is a shortened week due to a no school.
What You Can Do to Help at Home
Give your child the tools they need to prevent the spread of germs.
Make sure your child knows to wash hands for at least 20 seconds and do not use any item that does not belong personally to them.
Let them know they should always speak up if they do not feel safe or have questions regarding new routines because of COVID-19.
Plan for extra time in the morning to prepare for the day with new routines. Taking temperature, packing extra masks, washing hands before leaving for school.
Practice the proper way to wear and store masks, try wearing masks for a period of time so they can see how it will feel in school.
Find a new way to greet friends ie: wave, foot bump or make up a new way.
Bus Rules
All students riding school transportation will be required to wear a mask
Students from the same household will be required to sit together.
Students

 

must

 

sit in assigned seats as assigned by the bus driver.
Students riding the school bus will be socially distanced whenever possible.
Attendance will be taken for purposes of contact tracing.
Technology
Jr/Sr High School students (remote learners included) starting Monday, Aug 31 thru Sept 3 they can come to the IT office at the Jr/Sr High School between the hours of 8 am – 2 pm and pick up their Chromebook and charger.
For those students that do not pick up their Chromebook during this time their Chromebook will be placed in their first-class or homeroom.
For any technology questions or assistance, please contact the help desk at 518-568-2011 x3170.
Attendance
Jr/Sr High School attendance procedures will be in full effect whether students are in the in-person group or remote.
Students need to have attendance taken daily while remote as well
Students who are chronically absent will receive the same follow-up whether they are in the in-person school or the virtual school.
Food Service Procedure
The district will provide all enrolled students with access to breakfast and lunch whether in person or remote.
Jr/Sr High School breakfast will be provided as a grab and go, students can get their breakfast and head to their room from there.
If the school is remote, pick up locations will be identified in the school community or delivery will be available.
Mandatory Use of Protective Personal Equipment
Acceptable face coverings include but are not limited to cloth-based face coverings and surgical masks that cover both the mouth and nose
Bandannas and neck gaiters are not permitted.
Students will be required to wear masks on school transportation, in classrooms, in hallways, bathrooms, locker rooms, cafeteria, and other program spaces.
If staff and students cannot be at least six feet apart, each will be required to wear a mask.
Students may remove their masks under the direction of staff during mealtimes and while seated at their desks provided they remain 6 feet apart from one another.
Mask breaks will also be built into the daily schedule of each classroom
Preventative Measures to Mitigate Risk
Jr/Sr hallway lockers will not be used so as to prevent students from congregating in classroom areas or school hallways.
Students will use

 

clear or mesh

 

backpacks/book bags to carry their belongings, including books, notebooks, Chromebooks, lunch, etc.
Traffic will be a one-way direction flow based on floor level
Students and staff will be required to wear masks when they cannot practice social distancing
Each school office, bus, and bus garage will have masks to distribute as needed when students do not have their own.
Cleaning and disinfecting tools will be made available.
Soap and hand sanitizer shall be available.
Disinfecting wipes will be available to wipe down desks and other frequently touched surfaces in classrooms.
During the school day, the custodians will be cleaning and disinfecting frequently touched surfaces with emphasis on door handles, tabletops, bathroom surfaces, handrails, and seating areas.
HFM BOCES Programs
New Visions

 

program will begin on Monday, September 14, 2020. Please refer to the Career and Technical information below for bus info.
P-Tech

 

students will start on Wednesday, September 9, 2020. Transportation pick up and drop off times will be mailed to students.
The Career and Technical program

 

will begin on Monday, September 14, 2020.
Details are as follows:
11th graders

 

attending the morning programs will depart from the High School at 7:35 a.m, please plan to arrive at the High School by 7:30 a.m if they live in the village or are driving to the High School.
12th graders

 

attending the afternoon programs will depart from the High School at 11 a.m.
Adirondack Academy

 

will begin on Monday, September 21, 2020. They will be in session 5 days a week. The bus will depart from the High School at 7:35 a.m, village students need to be at the High School by 7:30 a.m.
Bus pick up for all BOCES students on Wednesdays will be as follows. All students will be picked up and dropped off at their homes unless they live in the village, those students will be picked up and dropped off at the Jr/Sr High School.
Please feel free to reach out to us, if you have any questions or concerns. We are in this together.
WEDNESDAY SCHEDULE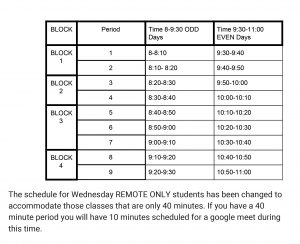 Elementary:
A message from OESJ Elementary Principal, Mrs. Kawryga
Dear OESJ Families,
First, I want to thank you for your support and cooperation for what has been a challenging year! I am proud of the way our staff, parents, families, and especially our students, handled a very difficult situation with dignity and understanding. As we begin this school year, we will continue to face many challenges together. I am hoping that this information will provide the guidelines for instruction that will help us work together to ensure that your children continue to learn and grow throughout the school year. The following is some important information you will need to know.
What you can expect from us:
Students attending school in person will be issued their own Chromebook.
For any technology questions or assistance, please contact the help desk at 518-568-2011 x3159.
Teachers and support staff are available to assist with strategies for reluctant learners and behavior, if needed. This includes assistance from the social worker, school psychologist or counselors working in the school.
Special Education/504 services and accommodations will be provided to students.
Special area classes will post lessons as well as provide live meetings.
Masks will be provided if a student needs one.
Temperature checks will be conducted upon arrival of all students and staff who have not completed an online monitoring form.
Student Expectations:
Students are required to wear face masks/coverings when social distancing is not possible. Masks are required on buses, in hallways, public spaces and in classrooms when social distancing is not possible.
Remote learners will be responsible for logging in daily and attending meetings with their teachers at scheduled times.
Attendance will be documented. Students are expected to attend school each day, whether remotely or in person, unless excused by a parent or guardian. Written excuses are required within 5 days of the absence. This can be in the form of an email.
In-Person Learning:
Students will be expected to wear masks in school with breaks offered by teachers throughout the day.
Students will practice good hygiene, hand washing and social distancing.
Students will use their own materials or materials designated for them by the teacher.
Here are the monthly schedules for the first few months:
Remote Learning Only:
Chromebooks for Remote Learning Only learners will be available for pick up at the Elementary school from September 8th – 11th between 8am – 2pm. Parents must sign an Acceptable Use Policy form.
Students will be responsible for logging into their Google Classroom/Seesaw/i-Ready and attend Google Meets with their teacher(s) at their scheduled times.
Students will complete the learning tasks that their teachers assign. This includes classroom work as well as special areas such as Art, Music, Library, Technology and PE and remedial assignments.
Parent Expectations:
Parents will monitor their children for fever and other symptoms before coming to school each day. A daily health screening questionnaire will be required
Parents will support/establish a daily schedule that will develop a positive routine for learning each day.
Parents will promote positive behavior during online learning activities.
Parents will support their children to stay on task but allow children to complete their own work.
Parents will reach out to teachers as needed and during designated times set by the teachers.
Parents' Guide to Google Classroom: https://www.youtube.com/watch?v=2Iowi-gmbys
Arrival and Dismissal:
Students may be dropped off beginning at 7:45 am in the front parking lot.
Buses arrive between 7:45 am and 8:00 am and report to their classrooms. Breakfast will be in the classroom.
Students being picked up at the end of the day will be dismissed at 1:45 pm.
Students riding the bus home will be dismissed at 1:50 pm.
Please don't hesitate to reach out to us as we will support you in any way possible. We are in this together, and together we can make this a positive experience for our children. Thank you so much for your support and commitment to your children's learning!
Food Availability
Meals will be provided for all students at OESJ regardless if they attend classes in person or remote.
These meals will be available at both the Jr./Sr. High School and the Elementary School between the hours of 11:00 a.m. and 1:00 p.m. and they can be picked up by the student, a parent, or family member.
The meals will be picked up in the cafeteria in both buildings, using the rear entrance by the girl's locker room and cafeteria at the Jr./Sr. High School and the front main entrance at the Elementary School. The breakfast will include an entrée (bagel, muffin, cereal), fruit and a juice and the lunch will include an entrée (sandwich), fruit, carrots, and milk.
If you are not able to pick up the lunches at the school, please contact your building principal so arrangements can be made.
Childcare Assistance for Fire Responders
New York State is using a portion of the federal Coronavirus Aid, Relief, and Economic Security Act (CARES Act) funds to provide child care to income eligible essential workers at no cost. Essential workers who must work outside of the home and who are using a regulated child care provider will receive a scholarship for the cost of care as long as the funds to support it are available. All licensed and regulated providers who are caring for essential workers are able to participate in this new program. 
In order to qualify for the scholarship, families must have an adjusted gross income at or below 300% of the federal poverty level. For a family of four that equals an annual income of $78,600.  
Parents are asked to complete the following application for the CARES Child Care Scholarship via the link below. It informs parents that the application will be considered complete once the online application is finished and the required supplemental documentation is submitted to Brightside Up, the Childcare Resource and Referral Agency (CCRA).. For parents that currently receive a subsidy from their local DSS to pay for child care, this scholarship can cover the parent co-pay. Parents should apply for the CARES Act Scholarship, and then contact their local Department of Social Services to get a letter stating their current co-pay. Please address any questions to Tricia Howland at thowland@brightsideup.org.
Click here for the COVID-19 CARES Child Care Scholarship Application
In accordance with state guidance, OESJ CSD is making plans with community partners to provide childcare for essential healthcare workers and first responders identified by the state. These workers have been identified by the state as physicians, nurse practitioners, physician assistants, registered nurses, LPNs, nurse assistants, laboratory personnel, paramedics, EMTs, police officers, and employed firefighters.
If you hold one of these occupations and you need childcare services, please complete the following survey.
If you have questions, please contact Superintendent Adam Heroth at (518) 568-7280 or adam.heroth@oesj.org.
If you are a parent or caregiver who needs child care, please complete this parent need for child care survey. Based on the information you provide about your job, employer, number of children, and financial need, OCFS may be able to help you find the child program you need. It may be a challenge to find child care due to COVID-19 related program closures, however the staff at OCFS are trying their best to support families to find the high quality child care that they need. In addition, the OCFS website has several resources available https://ocfs.ny.gov/programs/childcare/
Coronavirus resources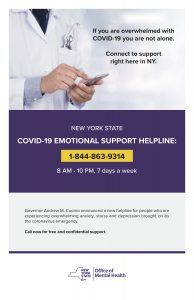 In addition, New York has established a Novel Coronavirus Hotline, which can provide additional information. Call 1-888-364-3065 with questions or concerns about travel and symptoms.
Feeling overwhelmed about COVID-19?
Help is waiting for you.
NEW YORK STATE COVID-19 EMOTIONAL SUPPORT HELPLINE:
1-844-863-9314
8 AM – 10 PM, 7 days a week
Read more from the NYS Department of Health.
A good review of "social distancing."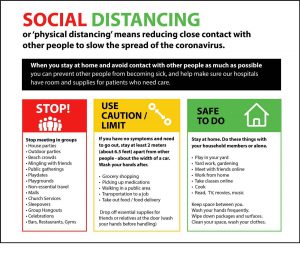 Last Day of School, Chromebook Collection and graduation plans
June 1, 2020
Dear OESJ Families and Staff,
Believe it or not we are approaching the end of the 2019–2020 school year and what a journey the last several months have been!  As we approach the end of the school year I want to provide you with some updates:
LAST DAY OF SCHOOL
The last day of school for instruction for all students and teachers will be on Thursday, June 18, 2020. As you may recall, the April Spring Break never occurred due to the need for continuity of instruction. However, the Spring Break will be moved to the end of the school year. June 19, 2020 through June 26, 2020 (the official last day of school) will replace the April Spring break, thereby concluding the 2019–2020 school year.
CHROMEBOOK COLLECTION
Student chromebooks will be collected on Friday, June 19 and during the week of June 22 through June 26 between the hours of 8 AM to 1 PM. They may be dropped off at either the elementary school at the main entrance or at the Junior Senior high school at the outer library entrance. If you have any questions, please contact the IT office at 518-568-2011 extension 3159.
RECOGNITION FOR OUR GRADUATES
Our desire is to recognize the class of 2020 in a memorable way. Let me share the status of the District's plans to recognize our graduates:
Senior photos have been provided to Kinney drugs and a big "thank you for getting them displayed in their storefront window.
Signs for each graduate with their picture should be received by the District the week of June 1. The signs will be placed at the homes of each graduate as well as along main street in the village.
A banner is being prepared for display across Bridge St. congratulating the graduates.
GRADUATION
Current plans call for a "drive-in" graduation at Soldiers and Sailors Memorial Field, subject to approval by the Montgomery County Department of Health as it relates to COVID-19 protocols. This will take place on Friday, June 26th with a planned 6:00 p.m. start. Attendance will be limited to one vehicle per graduate with only their immediate family in attendance. Plans are for the ceremony to be projected on a large screen with the audio transmitted to AM/FM radio through WCSS and a live stream of the ceremony will be available via Facebook Live.  Although speeches will be pre-recorded, it is hoped that the presentation of diplomas can be live while following various social distance rules in place at that time. Once plans are finalized and approved by the department of health, specific details will be made available to the graduates and their families. Once again, please be aware that attendance will be limited based on the protocols in place on the date the ceremony is held.
We have missed seeing your children over these past months. It has been a year like no other. Please accept my gratitude and appreciation for your help in keeping your children healthy, safe and engaged in learning.
Sincerely,
Dr. Joseph L. Natale
Interim Superintendent