School Closure
With the governor's latest order, schools will be out of session until at least April 29, with the possibility of that date being extended. To mitigate the transmission of the coronavirus COVID-19, the facilities and grounds, including playgrounds and athletic fields, are closed other than for official purposes.  We recognize that this extraordinary situation presents an array of difficulties and hardships for our students, employees and families. We are committed to doing everything we can to meet needs and support the community at this time.
Academic Resources
May 6, 2020 – Elementary and Jr./Sr. High School academic plans outlined.
Jr/Sr HS:
Teachers have prepared assignments for all 7-12 students while school is closed. Students can access their lessons on the internet, email and web page.
Students without internet access may call the school to arrange pick up of paper copies. Please call or email Mr. Ted Kawryga, Interim Principal, at 518-568-2011 for any questions or concerns.
Here are the fourth quarter expectations for grades 7 and 8.
Elementary:
Teachers have prepared assignments for students in PK-6 while school is closed. Packets are ready to be picked up at the elementary school on Wednesday, March 18th, from 8am to 3pm. Please call the school at 518-568-2014 if you are unable to pick up your children's packets.
Please don't hesitate to reach out to teachers by email and they will be able to respond to families directly. We understand that families are still working out their own daily schedules during this time. Teachers understand and will work with each of you to support your child's learning at home. You can find your teachers email address by using the district's search directory at https://www.oesj.org/contact-us/
Spectrum offering free high-speed internet
Spectrum is offering free high-speed internet service and Wi-Fi to households with students.  Families can call 844-488-8395 to enroll.  Installation fees will be waived for new student households.  After 60 days, you will either need to cancel the service or be charged.
WMHT public television on-air and online educational programming
Starting Monday, March 23, our local PBS station, WMHT Public Media, is offering an educational programming block targeted to support in-home learning for students in grades pre-kindergarten through 12 while area schools are closed. Check it out here.
Food Availability
Beginning on Wednesday, March 18th, the OESJ CSD will be providing breakfast and lunch to any students who wish to receive one.
These meals will be available at both the Jr./Sr. High School and the Elementary School between the hours of 11:00 a.m. and 1:00 p.m. and they can be picked up by the student, a parent, or family member.
The meals will be picked up in the cafeteria in both buildings, using the rear entrance by the girl's locker room and cafeteria at the Jr./Sr. High School and the front main entrance at the Elementary School. The breakfast will include an entrée (bagel, muffin, cereal), fruit and a juice and the lunch will include an entrée (sandwich), fruit, carrots, and milk.
If you are not able to pick up the lunches at the school, please contact your building principal so arrangements can be made.
Childcare Assistance for Fire Responders
New York State is using a portion of the federal Coronavirus Aid, Relief, and Economic Security Act (CARES Act) funds to provide child care to income eligible essential workers at no cost. Essential workers who must work outside of the home and who are using a regulated child care provider will receive a scholarship for the cost of care as long as the funds to support it are available. All licensed and regulated providers who are caring for essential workers are able to participate in this new program. 
In order to qualify for the scholarship, families must have an adjusted gross income at or below 300% of the federal poverty level. For a family of four that equals an annual income of $78,600.  
Parents are asked to complete the following application for the CARES Child Care Scholarship via the link below. It informs parents that the application will be considered complete once the online application is finished AND the required supplemental documentation is submitted to Brightside Up, the Childcare Resource and Referral Agency (CCRA).. For parents that currently receive a subsidy from their local DSS to pay for child care, this scholarship can cover the parent co-pay. Parents should apply for the CARES Act Scholarship, and then contact their local Department of Social Services to get a letter stating their current co-pay. Please address any questions to Tricia Howland at thowland@brightsideup.org.
Click here for the COVID-19 CARES Child Care Scholarship Application
In accordance with state guidance, OESJ CSD is making plans with community partners to provide childcare for essential healthcare workers and first responders identified by the state. These workers have been identified by the state as physicians, nurse practitioners, physician assistants, registered nurses, LPNs, nurse assistants, laboratory personnel, paramedics, EMTs, police officers, and employed firefighters.
If you hold one of these occupations and you need childcare services, please complete the following survey.
If you have questions, please contact Adam Heroth, Assistant Superintendent at 518-568-2011 ext. 5282 or adam.heroth@oesj.org.
If you are a parent or caregiver who needs child care, please complete this parent need for child care survey. Based on the information you provide about your job, employer, number of children, and financial need, OCFS may be able to help you find the child program you need. It may be a challenge to find child care due to COVID-19 related program closures, however the staff at OCFS are trying their best to support families to find the high quality child care that they need. In addition, the OCFS website has several resources available https://ocfs.ny.gov/programs/childcare/
Coronavirus resources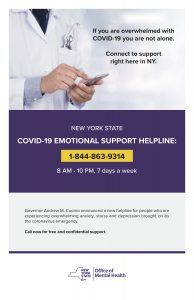 In addition, New York has established a Novel Coronavirus Hotline, which can provide additional information. Call 1-888-364-3065 with questions or concerns about travel and symptoms.
Feeling overwhelmed about COVID-19?
Help is waiting for you.
NEW YORK STATE COVID-19 EMOTIONAL SUPPORT HELPLINE:
1-844-863-9314
8 AM – 10 PM, 7 days a week
Read more from the NYS Department of Health.
A good review of "social distancing."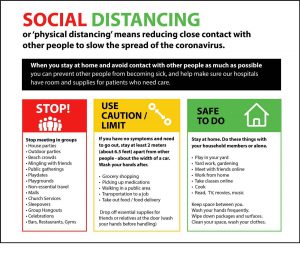 Superintendent's Letter – Plans being made for graduation and other year-end activities
May 15, 2020
Dear OESJ families and Staff,
I know that many of you are thinking about the end of school year, particularly our graduation ceremony. Please know that we have also been thinking about this. Administrators, faculty advisors and students continue to work together to come up with creative plans to recognize our graduates and have a commencement program under the guidelines of the Health Department and Governor's executive orders, including social distancing.
The commencement event may look different, but our goal is to commemorate this milestone in the class of 2020 in a way that will be memorable. Information about specific events and the end of the year schedule (month of June) will be shared as we know more.
At this point let me share with you the various initiatives we are exploring:
The various graduation options being considered include use of a drive-in theater, other outside areas, as well as a later date. Any suggestions you may have can be directed to the high school principal.
Signs have been ordered to recognize all graduates with their yearbook picture on the sign. Signs will be placed at their homes and at the high school site.
Also, please be aware that Monday, May 25, 2020 is Memorial Day and there will be no instruction on that day; all schools will be closed.
Once the June schedule for teaching and learning is finalized, and more details are known about the graduation; further communication will be sent.
Thank you to our students, families, teachers and staff, and the OESJ community for your continued support, understanding and hard work during this unprecedented time.
Sincerely,
Joseph L. Natale
Interim Superintendent