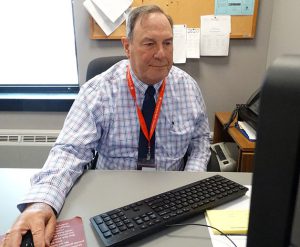 Tapping nearly 45 years of  experience in education, Ted Kawryga has been appointed interim principal at OESJ Jr./Sr. High School for the next four months until the end of the school year.
Kawryga began his career as a Syracuse teacher in 1975 and concluded his professional career in 2010 when he retired as superintendent of the neighboring Dolgeville Central School District. His wife, Jeanine, is the principal at OESJ Elementary School.
He was the principal at the Oppenheim-Ephratah Central School District for six months before the 2012 merger with St. Johnsville. He also served as  interim principal at OESJ Jr./Sr. High School for three months and interim superintendent at the OESJ school district for two weeks in 2014. He is also a volunteer, unpaid coach for the OESJ golf team and has substitute taught at the elementary school over the years.
Kawryga said he typically spends winters in Florida. He was available this year because he came north to be with his son, who had surgery in early February. "I figured, I'm here, so why not help out at OESJ," he said.
He was hired by the Board of Education to start at the Jr./Sr. High School on Feb. 13 through June 30. The position opened when Adam Heroth was named administrative assistant to the superintendent of schools, a move designed to ease his eventual appointment as superintendent of schools to replace Interim Superintendent Joseph Natale.
While he admitted there will be no new initiatives during the next four months, Kawryga said he sees a few areas that he'd like to dig into:
Attendance, a perennial issue at OESJ and many schools. "We need to get students to come to school; that's the only way they will be successful," he said.
Failure rate, with students failing individual classes. He said there are many students who are getting grades of 61-64 in a class, just shy of passing. "To me, there are just too many students failing a class. I'm willing to bet that in many of those cases, the students haven't handed in some assignment and that is affecting their grades," he said. "I want to work with those students to get them to at least 65." He would work with teachers to figure out the best way to boost student averages.
All seniors should graduate. "I want to see every one of our seniors walk the stage for graduation," he said. "I'm not sure that's 100% possible, but it is something I'd like to see happen. I want to get our seniors, all of them on the list, to graduation."
While he's not sure he'll be involved with his replacement search, Kawyrga said "I was raised to believe that when you start a job, you finish it." He expects to remain at OESJ until the new principal is hired.