Summer Adventure site provides week-by-week activities for grades K-5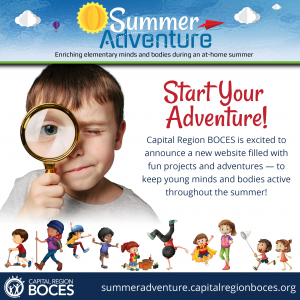 Summer vacation may look a bit different this year — but Capital Region BOCES has eight weeks of activities to keep children engaged all summer long!
Capital Region BOCES has partnered with its 24 component school districts to create a website of fun, enriching activities for students in grades K-5.
The Summer Adventure website will provide a range of activities for kids and their families, ranging from cooking to science to arts and crafts to mindful moments. With a mix of independent learning and family fun, parents will have the freedom to choose from a variety of summer adventures for their kids.
The site is designed to be a week-by-week adventure for students and their families, with a new theme revealed every Friday throughout the summer.