On Friday January 4th, the top 30 spellers in grades 4-8 competed in the 2019 School Spelling Bee in the Marge Curtis Auditorium.
After 17 rounds of intense spelling, seventh grader Annette Johnson was crowned champion.  The runner up was sixth grader Paige Morrone.  Third place was earned by eighth grader Jaslynn Leach.  The fourth place speller was sixth grader Ruby Hand.
Annette has now qualified to compete in the Capital Region Spelling Bee at Proctor's Theatre in Schenectady, NY on February 13th.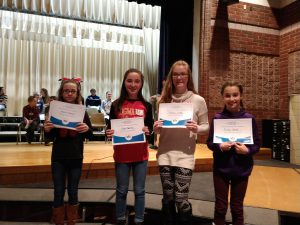 (In the pic starting on the left: Annette Johnson, Paige Morrone, Jaslynn Leach, Ruby Hand)