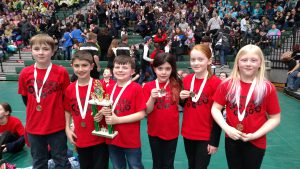 Congratulations Team Hide in Plain Site Team members Myles Hayes, Henry Schoff, Ava Murray, Devin Schell, Kayleigh Araujo and Kaylee Heroth coached by Nicole Murray, Abbey Schoff and Lisa Hayes for placing 3rd in the Odyssey State Tournament in Binghamton.  They performed against 18 teams and scored 283.59.
This team placed 2nd and 1st via wild card in the Regional Odyssey of the Mind competition on March 9, 2019.
Teams combined their skills, creativity and out of the box thinking. They made the props and costumes with no outside assistance.  It was quite a commitment for these children. Teams had to perform an 8 Minute skit of their long-term problem, which was judged on style, creativity and originality. They also had to respond to a spontaneous problem.
They worked for months and their hard work paid off. This is quite an accomplishment and we are very proud.