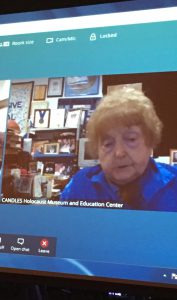 OESJ students participated in a teleconference over Distance Learning with Auschwitz survivor Eva Kor on Wednesday, December 19.
Mrs. Kor is a survivor of the Mengele twin experiments at Auschwitz. Here is what Wikipedia says about Mrs. Kor "Eva Mozes Kor (born January 31, 1934) is a Holocaust survivor. Along with her twin sister Miriam, Kor was subjected to human experimentation under Josef Mengele at the Auschwitz concentration camp during World War 2. She lost both of her parents and two older sisters to the Holocaust; only she and Miriam survived."
Mayfield Jr./Sr. High School hosted the teleconference. In addition to OESJ students, those from Mayfield, Fonda-Fultonville and Galway joined the event.
It was a powerful experience and one that our students will long remember.