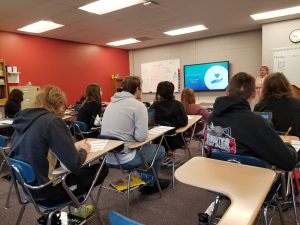 Earlier this year, Mrs. Van Wie and Mrs. Stalteri invited Adrienne Cross of the Hudson Mohawk AHEC in to meet with and introduce all 10th and 11th grade students to the Healthcare Career Exploration Program. This program introduces high school students to the many careers within healthcare. Mrs. Benton generously gave up her class time for students to explore careers related to their values and interests with a focus on career options in healthcare. The students also learned the educational requirements for multiple medical positions.
In our region, current healthcare workforce shortages threaten the viability of medical care. Hudson Mohawk AHEC strives to meet the future workforce demand by encouraging youth to pursue healthcare careers and meet the needs of medically underserved and disadvantaged communities.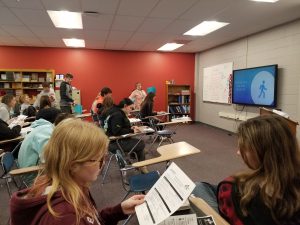 Hudson Mohawk AHEC also hosts a Medical Academy of Science and Health (MASH) Camp in the summer open to students in grades 9 – 12. MASH Camp is a one-day event where students are invited to explore healthcare careers and learn from professionals and professors, as well as participate in hands-on activities and demonstrations. Students will also learn about educational requirements, skills, and job duties, in addition to learning how to prepare for college.