FOR RELEASE: FEBRUARY 13, 2020
Contact: Interim Superintendent Joseph Natale at 518-568-7280
OESJ parent and Jr./Sr. High School Principal Adam Heroth named administrative assistant to the superintendent of schools at OESJ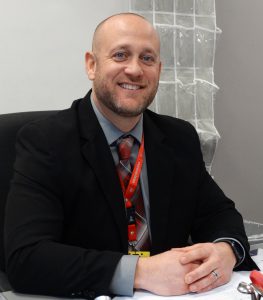 The Oppenheim-Ephratah-St. Johnsville Board of Education has named Jr./Sr. High School Principal Adam Heroth as the administrative assistant to the superintendent of schools, a move designed to ease his transition to the school district superintendency in July.
This appointment has no impact on the school budget, since Heroth will continue to be paid the same salary as he received as principal. Theodore Kawryga has been named interim Jr./Sr. High School principal until June 30.
Heroth, who is an OESJ parent, will work closely with Interim Superintendent Joseph Natale over the remainder of the school year, a period that will involve developing the 2020-21 school budget, searching for an interim high school principal, working on implementing a capital project and beginning contract negotiations with two labor unions representing the teachers and administrators.
"We are very fortunate to have someone of Adam's experience and ability already right here with us," said Board of Education President Neil Clark. "As an OESJ parent, Adam is able to consider the needs of parents and the community before every decision is made. That is a real strength."
"I have been mentoring Adam right along, but this will allow that to happen every day," said Natale, who has more than 30 years' experience as a superintendent. "He needs to get the day-to-day experience of working as a superintendent for the benefit of the students and staff at OESJ."
Heroth has participated in the Future Superintendents Academy through the The Leadership for Educational Achievement Foundation (LEAF), New York State Council of School Superintendents.
The superintendent's office, which has been at the DHR building for two years, has moved back to the Jr./Sr. High School. The closer proximity between Natale and Heroth will also help to ease this transition.
Heroth said he will benefit from working more closely with Natale. "I am grateful to the Board of Education for this opportunity to work more closely with Dr. Natale, a seasoned superintendent, and to be immersed in the job duties of the superintendency. This opportunity, coupled with my superintendency preparation program, is sure to prepare me well to transition to the position full-time next year."
He has lived in the OESJ district for over 10 years and has strong ties to the area growing up close by in Johnstown. Heroth, 40, and his wife, Shelly, have one daughter, Kaylee, who is a sixth-grade student in the OESJ Elementary School.
Heroth has been the Jr./Sr. High School principal since July 2018. He came to OESJ in July 2016 as the K-12 assistant principal, athletic director, and instructional technology specialist. Prior to OESJ, he was a health and physical education teacher at the Fonda-Fultonville school district from 2002 to 2016.
He holds a bachelor's degree in health and physical education from Ithaca College, a master's degree in curriculum, instruction and assessment from Walden University and an educational leadership degree from SUNY Plattsburgh.
Natale came to OESJ in June 2018 after former Superintendent David Halloran was appointed superintendent of the Gloversville Enlarged School District. Natale served in superintendent positions over the past 30 years. He will complete his two years as interim superintendent at OESJ on June 30.