The 47 members of the OESJ Class of 2021 bid farewell to the school under beautiful blue skies during a ceremony at Soldiers and Sailors Park in St. Johnsville Thursday evening.
Despite a year of pandemic precautions, including wearing masks throughout the school day, the ceremony was held with none of those  in place thanks to a directive from the state last week that essentially removed those precautions from events, especially outdoor graduations. Last year, for the Class of 2020 graduation at the same park, everyone wore masks and maintained social distancing as prescribed by the state.
This ceremony included hugging and handshakes as diplomas were handed out to the class members.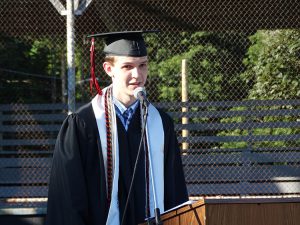 "The long and winding road has finally come to its end; high school is over. For each of us, this means that we will have new tasks and challenges to bear, as we go off into the world striving to do our best in order to succeed," said Valedictorian Jesse Watson. "For some of us, this means we will be attending a college or university, while for others it might mean entering the workforce, going into the military, or settling down."
He credited retired Band Director Dianne Mott with being "by far been one of the most monumental people in my life."
"One of the greatest lessons that I ever learned from Mrs. Mott has to do with character," he said. "As probably the most dedicated teacher that I have ever known, Mrs. Mott always did what needed to be done in order to make others succeed, including sacrificing herself in the process, if that's what it took. This burning passion, and ideals of sacrifice and humility, are what made Mrs. Mott really stand out as not just a teacher, but also as a leader."
Superintendent Adam Heroth said this was a difficult year – by any standard.
"To say that the last 16 months have been difficult would be a massive understatement," said Heroth. "However, here we are, together, on an exceptional day to celebrate the accomplishments of this year's graduates. This is always a momentous occasion, marking the day you become an OESJ alumni and a day that signifies the beginning of the next chapter of life beyond OESJ."
"You are busy orienteering the windy path to finding yourself, making important decisions about your future, and building lifelong friendships," he said. "All this time, many mistakes are made that are all part of the learning process we adults call "growing up."
"For good measure, while navigating through the usual challenges, the world decided to throw a pandemic at you."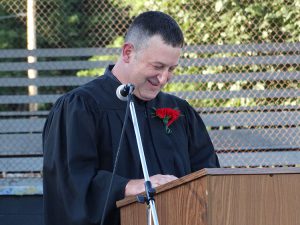 Board of Education President Neil Clark, whose youngest son Connor graduated this year, quoted a meme he had seen on social media: "You are not given a good life or a bad life. You are given a life. It is up to you to decide if it's good or bad." He said that statement came from a woman who suffers from multiple sclerosis.
He told the graduates that, thanks to his son, he knows many of them and will ask lots of questions in the coming years about their futures. In a tiny school district like OESJ and the surrounding area, "we are all family, whether you're blood or not."
Jr./Sr. High School Principal Kevin Warren told the graduates that the most important character trait they will possess in the future is credibility.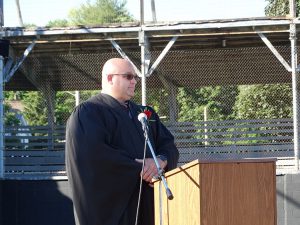 "You have each earned a diploma today," he told the graduates. "The real feat is how do you apply that and make your life credible."
The ceremony also included music by the High School Band and Senior Choir as well as the traditional flower ceremony, in which students bring a flower to their loved ones in the audience.
Here are a few pictures from this evening's ceremony. Check out Facebook for many more.