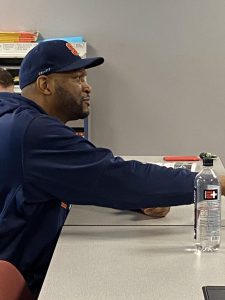 Well-known basketball player John Wallace, who played for both Syracuse University and the NBA for seven seasons, sat in on a Distance Learning class in Sports & Society and talked to students.
Wallace was at OESJ on Feb. 11 for a grades 9-12 assembly about the Gehring-Tricot textile company, which has locations in St. Johnsville and Dolgeville. The company designs and manufactures a broad array of knit and woven fabrics for markets such as medical, sports, safety, aerospace, apparel and military products. Wallace is friends with the company owners and was in the area. Principal Adam Heroth said the assembly discussed work ethics and characteristics that students would need to work in any industry or company.
According to Wikipedia, John Wallace, 46, is a retired American professional basketball player. The 6'8 forward played seven seasons in the National Basketball Association (NBA), in addition to stints in Greece and Italy. He was selected with the 18th pick in the 1996 NBA draft by the New York Knicks.
A 1992 graduate of Greece Athena High School in Rochester, Wallace led Syracuse University to the NCAA championship game during his senior season in 1996, where they lost to the Kentucky Wildcats. After his college graduation, Wallace played seven seasons in the NBA, with the New York Knicks, Toronto Raptors, Detroit Pistons, Phoenix Suns and the Miami Heat.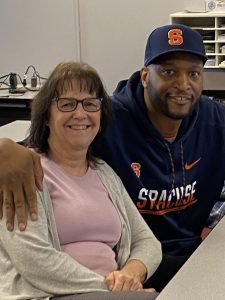 Cindi Bergen, who supervises the Distance Learning Lab at OESJ, said the nine students in the Sports and Society class "got a lot out of his visit. He sat right down and talked to kids for the whole period. It was terrific!"
The class is taught at Granville High School by Marc Lambert and sent via Distance Learning to OESJ, Amsterdam and Whitehall.
Wallace spent 35 minutes sharing the story of his athletic journey and answering questions from students at all four participating schools.  He recounted several anecdotes from his time in college and professional basketball.  During the discussions with students, he emphasized the importance of goal setting, hard work and confidence.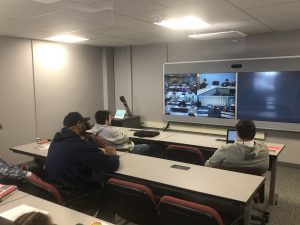 Wallace also addressed questions regarding several topics, many focusing specifically on his experiences involving NBA legends such as Michael Jordan, LeBron James, and the late Kobe Bryant.
Shortly after his visit to Sports & Society, Wallace was honored by a Syracuse University ceremony held to retire his #44 jersey.  It now hangs in the Carrier Dome next to the #15 once worn by Carmelo Anthony.
The Sports & Society students, many of them diehard Syracuse fans, were impressed by Wallace. Mason Snell, a sophomore and three-sport athlete at OESJ, remarked, "having John in our class was a very cool experience."
Lambert, quoted on the Granville school website, echoed students' sense of appreciation, stating, "this class encompasses so much more than just being a sports fan.  Some of the course's goals include exposing students to a variety of experiences and perspectives, engaging in insightful and meaningful discussions, and providing kids with tools they can use to emerge as better athletes and leaders.  John Wallace's presentation hit all of these."