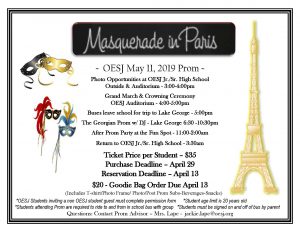 More than 100 OESJ students – 104 to be exact – attend the Prom at The Georgian with a view of Lake George last Saturday, May 11.
Grand March attendees packed the HS auditorium. Each couple strolled along a lantern lit walkway under the Eiffell Tower in Paris

The crowning ceremony was highlighted by Juniors:
Princess – Kenidee Oare
Prince – Quincy Bonneau
Seniors:
King – Harold Coffin
Queen – Emma Hart
Royal Court Members – Seniors:
Jack Brundage
Nick Grant
Zach Mosher
Robert Snell
Fontanna LaCoppola
Jazmin Mumford
Hannah Ouderkirk
Chassity Pacheco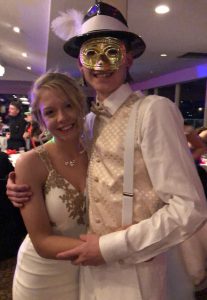 The After Prom Party was held at the Fun Spot in Queensbury where the attendees played laser tag, miniature golf, arcade games, drove go carts, roller skated, attempted the Ninja rope course, enjoyed subs, and each others company until 2 am!