February 10, 2021
Dear OESJ Families,
This school year has certainly been unique for all of us. We appreciate your partnership as we continue to navigate the pandemic and make decisions that are in the best interest of the health and safety of all. As we monitor the number of cases in our school and region, we are seeing a decrease in overall cases. The decision was made to bring back some of our elementary students full time earlier in the school year. In doing so, we have not seen an increase in the number of COVID cases. Given this experience, at this time we are ready to continue to bring more students back into the building for in-person instruction.
Beginning Monday, February 22nd the following changes will happen:
All Seniors will attend 5 days a week
All Special Education students will attend 5 days a week
Students in grade 7, grade 8 and grade 9, grade 10, grade 11 will continue with the hybrid or remote only model,  however, the hybrid students will alternate Wednesdays as follows:
Gray Group (Monday, Tuesday) will attend their regular days plus the following Wednesdays: 2/24, 3/10, 3/24, 4/14, 4/28, 5/12, 5/26, 6/9, 6/23.
Red Group (Thursday, Friday)will attend their regular days plus the following Wednesdays: 3/3, 3/17, 3/31, 4/21, 5/5, 5/19, 6/2, 6/16.
Example calendars have been included below.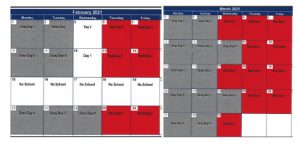 There is no change in arrival or dismissal times.
Students that came in on Wednesday only will no longer have that option.
Remote Only students will still follow their schedule and log in every day.
We are confident that with our current safety protocols in place, OESJ is capable of providing a safe environment for our students. As we continue to monitor the number of cases we will evaluate and plan for more students to return in-person and will continue to provide you with on-going updates. As you know, you have already selected the hybrid or remote only model of instruction for the third quarter.  More information will be forthcoming to those parents who chose to continue with the "remote only" option.
We ask that if at all possible, please transport your children to reduce numbers on our busses.
Should you have any questions, comments, or concerns, please do not hesitate to contact me at 518-568-2011. Thank you in advance for your help in making this a smooth transition for our students.
Sincerely,
Kevin Warren
OESJ JR/SR HS Principal