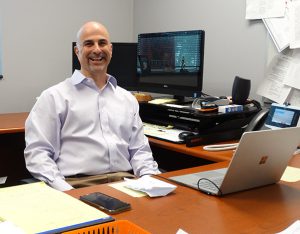 Kyle O'Brien, who has served as the OESJ director of student services since 2018, has been named as the OESJ elementary principal, succeeding Jeanine Kawryga, who retired.
"I'm amazed at the staff here, they care so much about their students," said O'Brien, 50, who will also retain the director of student services title. "This school district has so much potential, it's off the charts!" He said a big part of his job is to "make sure that every student achieves as much as they can."
O'Brien said his experience with special education students and teachers during his entire career was a great experience to have as he became an administrator. He had many opportunities to begin new programs to better serve special education students. "I always get involved with a program with a clear goal in mind and track the progress of the program as it goes along," he said. "I think that accountability is the only way to run a successful program. I like to think of myself a results-driven guy."
He thanked the Board of Education and Superintendent Adam Heroth for supporting his appointment as principal. He will work with Jessica Stock, who will serve as his assistant principal and chairperson of the Committee on Special Education and Committee on Pre-Special Education.
During O'Brien's tenure as director of student services, the number of students classified as special education dropped was reduced each year and the district was able to generate a significant savings.
His philosophy is to keep special education students in classrooms and have teachers work closely with them there. When he arrived at OESJ, students were routinely "pulled out" to go to a special education teacher. "Students are better served being in the general education classroom, with the help of others like reading and math teachers and teaching assistants," said O'Brien. "You want to be sure they are getting the right services for what they need at all times."
O'Brien is exploring several initiatives for the coming school year:
Focus on reading literacy: "we are going to focus on the science behind reading, what works and what doesn't work." He said the school district is proving professional development to teachers throughout the year to boost reading. "Parents will start to see the benefits as we begin to implement this into the curriculum," he added.
WIN – What I Need: The WIN program in grades 2-6 will be time set aside during the day, from 20 to 40 minutes, in each classroom during which students will receive extra help and gifted and talented students can take on additional activities. "It will be a time to build upon what they are doing in the classroom with the teacher's guidance," he said.
Afterschool Programs: he is hoping to begin afterschool programs for students to continue learning. "This will be an opportunity to students to catch up on what they need," he said. Other types of afterschool and intramural opportunities, perhaps for gifted and talented students, could also be explored.
Drop Off/Dismissal – Drop off and dismissal will be changed this year. Buses will continue to drop off and pick students up in the front at the end of the day; parents will go around the building to drop off and pick up students, an effort to relieve congestion and make it safer every afternoon.
O'Brien holds a bachelor's and master's degree in special education, as well as administrative certifications, from the College of St. Rose in Albany. Before OESJ, he worked at the Bethlehem Central School District as a special education supervisor/chair of the Committee on Special Education for six years. Before that, he was a special education director at Hoosic Valley Central Schools. He was previously a special education teacher at Duanesburg Central Schools and Watervliet City Schools.
O'Brien's wife, Cinda, taught reading for 18 years. They have a daughter, Hayley, who just graduated from UAlbany.
The family lives in Albany.