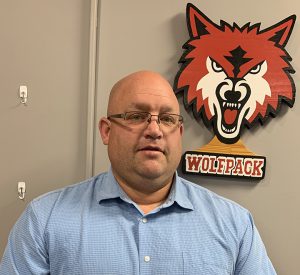 Kevin Warren, the former principal at the HFM PTECH program and Mohonasen High School, has been named the new principal at the Jr./Sr. High School.
He succeeds Interim Principal Ted Kawryga, who was named to the position in the spring. Kawryga succeeded Adam Heroth, who is the new OESJ superintendent.
Warren's four-year probationary appointment was made by the Board of Education on June 2.
"I am excited to have the opportunity to lead a school with so many opportunities for student success," said Warren, who can be reached by email at kevin.warren@oesj.org. "I have been dedicated to the field of education for more than 20 years and have worked with a variety of student populations ranging in age from third grade through and including college and career students."
Prior to PTECH, Warren served as principal and assistant principal at the Mohonasen High School, Schenectady County, for three years. Before that, he was a special education teacher at Scotia-Glenville schools, Schenectady County, for eight years and a special education teacher at South Colonie High School, Albany County, for four years.
"I am committed to create and develop relationships with our students and community partners to strengthen our programs," he said, looking ahead to his role at OESJ.  "Our focus will be on character, curriculum rigor, and providing unique, relevant experiences for our students."
He holds a bachelor's degree in special education from the College of St. Rose (1998) and a master's in educational administration from the University of Scranton (2014).
He has long been involved as a coach for varsity, junior varsity and freshman football and varsity and modified lacrosse school teams as well as a volunteer coach for youth football, baseball, wrestling and lacrosse programs.
Warren lives in Rexford, Saratoga County. He has four children: Roz, 24; Jake, 21; Justis, 18 and Brooke, 16.