Jessica Stock, who has been a teacher and teacher leader at Johnstown, is set to become the new assistant elementary principal and chair of the Committee on Special Education and Committee on Pre-School Special Education.
She will work closely with Elementary Principal Kyle O'Brien.
"We have talents that compliment each other very nicely," said Stock, 35. "Where he ends, I pick up. And vice versa. We are enjoying working together in a very collaborative way. There's no jockeying for power or anything; we have hit the ground running."
She said she was hopeful that staff members would also recognize that collaboration "and that will lead them to want to be more collaborative."
Beyond boosting the abilities of special education students, she also views herself as a curriculum leader. "We are going to look deeply into the ELA (English Language Arts) and math curriculum, for both special education and regular education students," she said. "Our plan is to begin assessing the curriculum here (at the Elementary School) and then move those changes and improvements to the Jr./Sr. High School."
She and O'Brien will work with others to review the curriculum, such as the Instructional Teacher Leaders (ITL). "The pandemic has delayed doing some things, but now we want to get back on schedule," she added.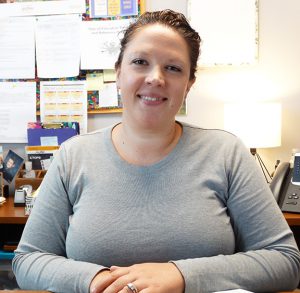 Stock holds a bachelor's in history from SUNY Geneseo and a master's in Special Education from St. John Fisher College in New York. She is completing her building-level certification from SUNY Plattsburgh.
She taught social studies at Warsaw High School (2008-10) and Geneseo High School (2010-13). She has been a special education teacher and curriculum and instructional leader for special education at Johnstown City Schools since 2013.
She and her husband, William, have two sons: Paxton, age 7 and in grade 2, and Henry, age 3. The family lives in Johnstown.