Not many people can say that they achieved their life's goal.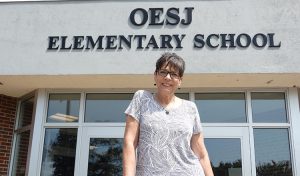 Retiring Elementary School Principal Jeanine Kawryga says she did. "My goal was always to be an elementary principal. This has been my dream job," said Kawryga.
After teaching for many years in the Syracuse City School District and former Ilion School District, she decided to move into the next phase of leadership while still having contact with kids and making a difference on a different level. "Running a building has many moving parts and that always appealed to me," she said.
She added that being school district superintendent, the next level higher in public education, never appealed to her. She has worked for five superintendents since she started, but she never wanted that job. "My husband was the superintendent in the family and one was enough!"
She retires this month after eight years at OESJ. She came as the newly merged school district was getting up and going in August 2013. She had previously worked in the Greater Amsterdam, Troy and Mohawk school districts as a special education administrator.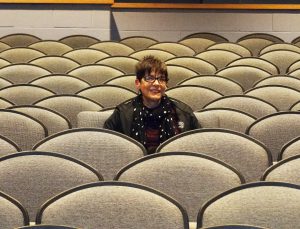 "I hope I am remembered as being a fair, compassionate principal who is leaving behind a good school culture," she said. "The staff works together. Children show good character and are kind. We are all working really hard for the common good. We are all one big family!"
She said those cooperative building-wide traits were tested mightily in the past 15 months as schools adjusted to the COVID-19 pandemic. At OESJ Elementary, Kawryga pushed during the year to bring more and more students back for in-person learning, considered superior by most educators.
Parents always found an open door with Kawryga. "I've always been approachable. Parents would show up, we never sent them away because they didn't have an appointment. We just didn't operate like that here," she said. She said parents have been very understanding, especially in the past year when she would have to call to inform them that their child was in a quarantine. "I'm so proud of the way the staff and students have handled the COVID restrictions and taking it all in stride," she said. "We just moved forward in the best way we knew how."
"I will miss the kids and the staff," she said, holding back tears. Over the years, she has seen thousands of students go through her building. "I remember 99% of the kids names, even after they've left here."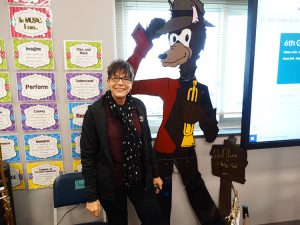 Kawryga, who said she is looking forward to spending time in Florida and playing golf with her husband Ted, said the building will be in good hands with new Principal Kyle O'Brien.
"I'm very happy that Mr. O'Brien is taking my place. He knows the students and the staff and has the compassion and dedication to really make a difference," she said. Her happiest moments, she said, were the monthly Wolf Awards, that recognizes student character, and the opening of the new DiAnne Mott auditorium in November.
Kawryga holds a bachelor's degree from Columbia College in Missouri and a master's from LeMoyne College in Syracuse. She has worked as a college professor at SUNY Cortland and served as director of student services in several school districts. She holds state certifications in elementary education, special education, social studies (7-12) and Business and Distributive Education (7-12) and as a building and district level administrator.
Mrs. Kawryga was well liked!
Julie Taylor has worked in the elementary office for the past nearly 10 years. She has worked with five principals during that time.
"Mrs. Kawryga's strongest trait is her huge heart. She truly cares about everyone in her building, especially the students. If you were an underdog, she always had your back (students)," said Taylor.
"She would feed kids in her office if they said they were hungry, buy them extra at breakfast and lunch so that their bellies were full and send home food that she bought to make sure they had something for dinner," she said. "It didn't matter what they needed, she made sure they got it.  Mrs. Kawryga has been a wonderful 'boss' and a great friend who I will miss dearly."
"She will be missed tremendously in our building," said teaching assistant Jill Fredericks, who began at OESJ in 2008. "Mrs. Kawryga is kind and compassionate. She knows all the students by name. She connects with them by learning their  interests and hobbies. She invests herself into others including her staff."
She said Kawryga always involved the staff in building decisions. "She made us feel like we were all a team, even more so, a family. She always encouraged us to do what was in the best interest of our students. Jeanine will be greatly missed this fall. Although she will be missed, I'm confident that the future of our building will continue to grow on the foundation that she has built for us under our new administration."
Grade 6 Science/SS teacher Hannah Mucray said Kawryga made a promise when she started at OESJ Elementary. "She told the staff this was her dream job and that she planned to stay. She made good on her promise; working with a high needs population and at a school that had a very high turnover in administration." said Mucray. "Mrs. Kawryga quickly learned the names of every student and could be seen greeting them every morning and saying goodbye every afternoon. She especially loved the preschoolers and kindergarteners and they would often make her cards, ask to eat lunch with her, or give her big hugs."
She said Kawryga made sure staff received professional development after  the merger with St. Johnsville. She created "positive relationships among her staff. She succeeded and I personally have made lifelong friendships because of her dedication."
Kawryga was easy to work with as an administrator.  "Students were  placed as the priority in every decision and Mrs. Kawryga always said yes to our crazy ideas—from overnights on the soccer fields to being covered in slime."
"Mrs. Kawryga made us her family—one potluck at a time. We will miss her breakfast pizza treats, her sincere praise, dance parties, birthday Hershey bars and cards, her big personality and even bigger heart."
"I leave 'Mrs. K' with one of her favorite authors to quote: "Don't cry because it's over. Smile because it happened." Dr. Seuss."