The Hilltop Volunteer Fire Company in Dolgeville presented the annual Mack Looman Memorial Award to the OESJ Board of Education at its meeting on January 6.
"You have been noticed by our department on your dedication and commitment to your students, staff, and community during the ongoing Covid 19 Pandemic," said the award presented to the school district. "You have shown the strength and determination to overcome the obstacles to keep your students, faculty. and community safe."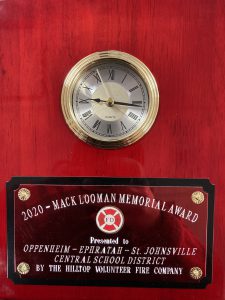 "On behalf of the OESJ CSD, I would like to sincerely thank the Hilltop Volunteer Fire
Company for their thoughtful recognition of our students and staff during the COVID-19 pandemic," said Superintendent Adam Heroth. "It is an honor to receive this memorial award in Mr. Looman's memory."
Mack Looman was a gentleman who was part of the Hilltop Volunteer Fire Department for approximately 30 years. He served as the president of the department for many of those years as well as Fire Chief. Mack Looman's character and values are what inspired the department to give an award on his behalf.
This year, the award was presented by the Hilltop Volunteer Fire Department Chief Dan Akerley, Captain Cory Carpenter  and Lieutenant & President Leland Carpenter III.