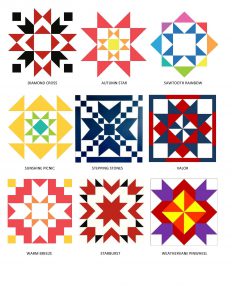 The OESJ HS art students will be creating Barn Quilts as part of a community service project for spring 2019. Barn quilts are wooden squares painted to look like quilts and positioned on a garage, barn, house, shed, business or free standing post. Barn quilts are based on traditional patterns painted to make them unique to each property and community. Barn quilts will not have any logos or lettering on them, as they are art, not a sign.
Students will be making 10 Quilts. Orders will be taken on a first come first serve basis. All quilts will be ready for pick up on Thursday, May 23rd , May 28th -31st during regular school hours. Purchasers are responsible for picking up, installing/displaying their own quilt.
Each 4 ft x 4 ft quilt is $65.00. Please note that this is a community service project, the price reflects the cost of materials.
To place an order, complete the attached order form here and return to:
Sara Thibodeau, Art Teacher
OESJ High School
518-568-2011
sara.thibodeau@oesj.org
For information about the Fulton Montgomery Quilt Barn Trail go to : http://www.visitmontgomerycountyny.com/fulton-montgomery-quilt-barn-trail-seeking-more-community-members/http://www.fmquiltbarntrail.com/