Valedictorian Robert Snell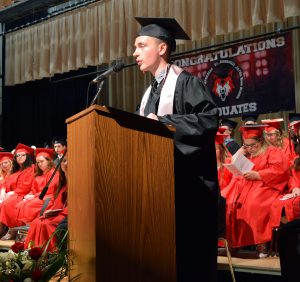 Good Evening Everyone,
Before I start, I would like to thank the faculty and staff for setting up this event. I want to thank my friends and family for all that they have done for me.
Specifically, my mother and father, who have always been there for me, encouraged me, and most importantly taught me to be nothing less than a good person. Because being good and kind to others, will get you farther in life than anything else. I also would like to thank some of my teachers throughout the years, for guiding me in the right direction. Teachers like Linda Hart and Jacque Mosher, have opened up my eyes to what the world is really like. Thank you all for guiding me and for bringing me to where I am today.
To my fellow classmates: We did it, my friends. We accomplished one of the first significant milestones in our lives. We are now high school graduates. Through hard work and determination, we were able to get to where we are
today, and our work did not go to waste. High school was one of the first major journeys for us, where we officially became more competent, and willing to take more responsibility and challenge ourselves. The high school diploma we hold today will grant us an immense opportunity, making us able to pursue a variety of jobs, to go to college, or obtain vocational education.
Along the way, we have had nothing short of a good time. I am one of the individuals here today, who attended D.H. Robbins Elementary school. There, I made connections with life-long friends and have had teachers who were nothing less than mentors. There, as many of my classmates will gladly
tell you, we endured life-long lessons from Mrs. Hart on how we should act. She taught us the importance of showing compassion and staying kind to others. Where, her counterpart, Mr. Jordan, talked to us about hunting for a majority of the time (haha). He would always bring in turkey calls and would always have a terrific anecdote to kick off the start of class. Inevitably, in middle school, we merged districts. To be completely frank, I was not sure how everything would turn out. I think the adults had a tougher time adjusting than we did; the kids were able to get along and move forward. We became stronger as a school community and made many more life-long friends.
As the years went on, high school began. In high school, we were expected to do more. We were asked to take on more responsibility through our course work and to push ourselves to become the best person we could be. Along the way we had a terrific time: in school when playing sports, and through other extra-curricular activities.When in school, aside from completing assignments, we would always take the time to have a little fun. Some of us would continuously joke around with Mr. Mosher about the school, and how he could make a few improvements. While others would play cards or ping pong in Mr. Miles room during lunch or study halls.
Besides actual academic and regular school function, many people in our class took pride in playing sports. During our senior year, our class was able to achieve a lot on the field and the court. Our boys' soccer team made it to the final sectional game against Fort Ann and became league champs.
Our boys' basketball team were league champs, section champs, and state finalists. While the girls' soccer team won their league our senior year, they were more than outstanding. Our cheerleading squad made school history by bringing, not only, the first male cheerleader onto their team, but welcomed a foreign exchange student onto the team as well. Our athletes, their families, and our coaches have a great deal to be proud of.
Though sports were an important part of demonstrating who we were as a class, many other students took pride in other extra-curriculars. One of the most prominent extra-curricular activity that many students took pride in participating in was our very own FFA. This organization gives students
the foundation to become future leaders in anything relating to agriculture. They took part in going across the country to the nation's national agricultural convention. At the convention, our very own President spoke to them about the importance of agriculture in our country. Other students also took part in different clubs and organizations; like National Honor Society, Envirothon, and
Tech club. Each of these opportunities helped us to grow and develop into the people we are today.
In Conclusion: We have had an extraordinary time as OESJ High School students. We now need to take it upon ourselves to write our own stories and do whatever we possibly can to make a mark on the world. We will now go our separate ways, pursuing whatever drives us to be us. Along the way, we must stay true to who we are as well. I ask you to stay true to who you are. Don't ever let anyone negatively influence who you are, based upon their pessimistic ideology. We must also remain kind. We need to stay kind, honest, and have humility. Without these qualities, people will see you as being unworthy of their own time and attention. Though this is all prevalent, what I am sure of more than anything else, is that we need to take responsibility. Take responsibility in whatever you enjoy, and through this, you will find meaning in your life. As psychologist Dr. Jordan Peterson said, "The purpose of life is finding the largest burden that you can bear, and bearing it." Without
responsibility, we have nothing. I thank you all for the time we have shared and look forward to seeing what we all become.
Congratulations to the class of 2019.
Salutatorian Christopher Swartz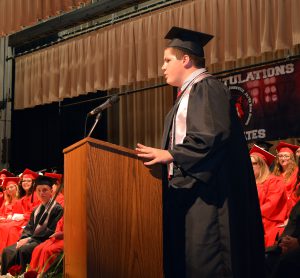 The day has finally come that we've all been hoping for the most, graduation. After all these years of work, taking tests, and most of us sleeping through class with Mr. Yvars. The time has come to say our goodbyes to not only this place but also to those who we have spent the past 6+ years as we turn the page and head down the road that has started to expand in front of us.
With this new path will come its onset of obstacles, no surprise in that, whether it's difficulty in finding a job for those entering the labor force or for those of us entering college having difficulty with the adjustment to college.
The one thing we can learn from this is to stay true to ourselves in these situations in order to make it through the harder times that are coming our way.
Now I'd like to give thanks to all the parents and parent figures who have helped shape everyone here today, without you we'd be lost and wouldn't be where we are today. To the faculty and staff, on behalf of the grade, I'd like to thank everyone over the past 4 years who have helped to get us through all this and most likely lost hair because of us.
Finally I'd like to say a thank you to the class for everything coming through school, prior to the merger there was the experience that was nature's classroom, some of us have fond memories of that place, after the merger we had the melting pot of a middle school class, and finally for the past year with all the antics of the senior trip and our last year before true adulthood, the last thing I'm going to say is that I challenge you to become better versions of yourselves, not only to you but to those around you, and with this success will come.