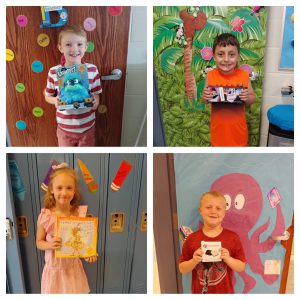 Kindergarten through third grade piloted a reward based incentive program created by Mrs. Jill Fredericks. The Shopping Cart Monday Program was created to help engage students with their own learning paths in iReady.  Each child met with their teacher to create personal goals in iReady Math and iReady Reading. Each week students and teachers kept track of their goals and were awarded points based on their accomplishments. Students had the option to save or spend their points weekly.  The maximum point allowance each week could total up to 40 points. Most younger students spent their points every week to buy small items for an immediate reward. Small incentive items included stickers, snack milk, punching balloons, or a piece of candy. Others saved their points for larger prizes.  The most valuable prize was a robot. Leela Eisle is pictured holding her prize with a huge smile expressing her feelings of accomplishment. Nontangible awards like lunch with Principal Kawryga were also a huge hit!
Our program would not have been as successful without the help of our parent volunteers and our parent organization P.A.W.S.  Michaelyn Illsley, Michael Elmendorf, Nicole Haversat, and Cheryl Cavanaugh have been the faces of this program. They roll the shopping cart, donated by Big M in Dolgeville,  to every classroom on Monday mornings and help students decide what to do with their points. Their dedication and wisdom have been greatly appreciated!
Most recently students were enticed with a 100 point bonus for each Spring Diagnostic Assessment they improved on since September with a maximum of 200 points. This incentive was extended to grades 4-6 to get them excited about shopping.   Kindergarten through sixth grade will be participating in the shopping cart program next year.
Engagement and success have improved greatly this year with the help of this program.  If you'd like to volunteer to help with this program next year contact Mrs. Fredericks for more information.