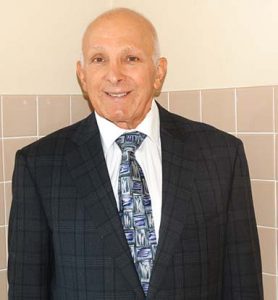 The Board of Education has turned to an experienced educator to lead the Oppenheim-Ephratah-St. Johnsville school district (OESJ) through the 2018-19 school year, kick start the capital project and help mentor the next superintendent.
Dr. Joseph L. Natale has been named OESJ's interim superintendent through June 30, 2019. He began June 11th and succeeds David Halloran, who has been appointed superintendent of the Gloversville Enlarged School District.
Natale is excited about leading the district for the 2018-19 school year and is looking forward to working with staff, students and the community as the $24 million capital project gets underway this fall. The project which was approved by the community in December 2016, includes extensive renovations and construction at both OESJ Junior/Senior High School and OESJ elementary school.
"Although completion of the project will take some time, I look forward to participating in what will become a much more positive learning environment for students and staff throughout the district," he said.
In addition to work on the capital project, Natale plans to examine the academics and needs of the staff and students. He noted that OESJ has been spending a fair amount of time focusing on academics and achieving excellence in the classroom, such as implementing a new English Language Arts and mathematics program.
OESJ was created in 2013 after the Oppenheim-Ephratah School District merged with the St. Johnsville School District. Natale has experience with mergers and said the hard work often begins in the years following.
"It appears that the new community is coming together as a unified district, and that's very important. In the end, we have to keep the focus on education. We are in the kid business. We want to have the best school district in the area."
Natale earned a bachelor's and master's degree in mathematics from SUNY Albany. He also earned his doctorate in educational administration from SUNY Albany. He began his career teaching math at the Greater Amsterdam School District.
Natale served as superintendent of the Warwick Valley Central School District (Orange County) from 1988-2006. He has also served as interim superintendent at the Mayfield Central School District (Fulton County) in 2013-14 and at the Berne-Knox-Westerlo Central School District (Albany County) in 2014-15. He served as the director for school consultant services for the New York State School Boards Association for six years.
Natale and his wife Kathy live in Guilderland. They have two children and five grandchildren.