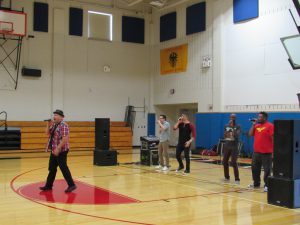 What a way to start the school year! O.E.S.J. students and faculty were amazed and entertained by the talents of Ball in the House on Friday, September 7, 2018.
Ball in the House is an R&B/Soul/Pop a cappella group based out of Boston, Massachusetts. They commonly perform over 200 shows a year throughout the U.S., as well as across the globe. These 5 singers just returned from entertaining crowds in China. So, we were very fortunate to have these talented gentlemen singing at our school! You may have heard them before in Cool Whip commercials, on America's Got Talent, The Today Show, and more!
Dave, Jon, Wallace, Ben, and Monty took turns teaching our students about their roles in this magnificent a cappella group. They invited volunteers up front to try out sound equipment and to get some experience at beatboxing. Our guests also encouraged students to get involved with music! Whether it is singing or playing an instrument, the performers explained you can play music even if you are playing sports or doing other activities. Our first assembly of the year was excellent thanks to Ball in the House! We hope they will return next year!