"Do you know how many members of the Class of 2020 there were in March before we shut down?" Adam Heroth, administrative assistant to the superintendent and the future OESJ superintendent asked the class during tonight's graduation program. "52."
"Do you know how many of you are here today? 52," he said. "I am so proud of you. You all made it!"
The Class of 2020, all wearing masks, received their diplomas during a graduation program set on the baseball field at the Soldiers and Sailors Park in St. Johnsville. The main stage was, fittingly, sitting on home base while graduates and one special person sat in the outfield, spaced at least six feet apart from one another.
This was the 7th commencement program at OESJ.
Graduation is typically held in the high school auditorium. Because of the COVID-19 pandemic, school has been closed since Friday, March 13. And the governor has ordered no more than 150 people could gather for a graduation. OESJ's total was under that on the field.
The evening began with a parade past the high school in which teachers cheered and applauded cars carrying students as they drove by their alma mater.
Here is the program from this evening.
The graduation was also broadcast on Facebook Live.
Here's the list of graduation awards received by the Class of 2020.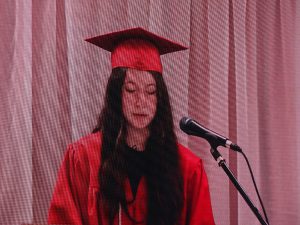 Salutatorian Isabella Masi described the stress of changing schools after the 2012 merger and recounted many happy thoughts of high school.
"We never realized we had our last day of high school on Friday, March 13. Suddenly school closed and now it's online," she said. "The memories of walking through the halls and walking past our old classrooms, going up staircases so many times a day. Even after five years of walking up three floors, those stairs still kill me every time."
Valedictorian Von Baker sought to turn lemons into lemonade. "When I first started writing this speech, I struggled to find the right words to use considering the unprecedented way that our senior year has concluded," he said. "I need not run down the list of everything that we've missed this year, rather I have decided to take this time to turn our situation into a positive one somehow."
He quoted a poet, Leslie Dwight: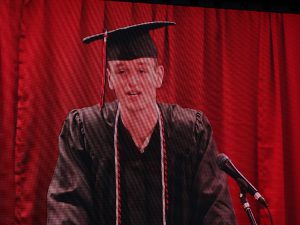 What if 2020 isn't cancelled?
What if 2020 is the year we've been waiting for?
A year so uncomfortable, so painful, so scary, so raw – that it finally forces us to grow.
A year that screams so loud, finally.
Awakening us from our ignorant slumber.
A year we finally accept the need for change.
Declare change. Work for change. Become the change.
A year we finally band together, instead of pushing each other further apart.
2020 isn't cancelled, but rather the most important year of them all.
Interim Superintendent Joseph Natale, whose last day with the district is next Tuesday, said students and staff alike had struggled during the online education period of the past 12 weeks but had succeeded.
"I am reminded of some of Dr. Martin Luther King's comments. He notes that the world is governed by two sets of laws. First, there are physical laws, such as gravity. If we disobey it, we can end up with a broken neck. He also goes on to note that there are also moral laws such as caring for others, respecting your neighbors or loving your family. If we disobey these laws, we risk the destruction of ourselves and society," said Natale.
"Therefore I challenge all of the graduates to remember that success is not defined by education degrees, occupational status, physical assets or other material possessions but it is defined by how we relate to each other."
Here are a few photos from tonight's ceremony.
Here are many more pictures on Facebook.